Network:

Netflix

Series Premiere Date:

Dec 23, 2016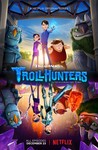 Summary:

The animated series from Guillermo Del Toro begins with 15-year-old Jim Lake (voiced by the late Anton Yelchin) finding an amulet that grants him the right to become a Trollhunter, a protector of the underground trolls that includes Blinky (Kelsey Grammer).

Genre(s):

Comedy

,

Animation

,

Action & Adventure

,

Kids
It all builds to a visually and narratively thrilling finale that, with stakes that feel sky-high, reflects just how excellent the series is, right out of the gate and throughout its length, at investing viewers in its world.

The series, based on the book of the same name by Daniel Kraus and del Toro, is well written, although it relies on stock character situations such as the young hero standing up to the school bully; the awkward, overweight sidekick learning that he is more capable than he thinks he is; and the popular high school girl becoming friendly with a kid from a lower social stratum. All of it works, though, because Trollhunters mostly wants to tell a gripping story.

The series never fully shakes off the rigid, by-the-numbers storytelling, or its underdeveloped characters, but the frequent moments of heart and humor elevate what would otherwise be a cold, slick thing of stone.

There's not much verbal wit in Trollhunters--the jokes are pitched to a kid audience that has probably heard better ones in DreamWorks feature films such as How to Train Your Dragon and Shrek. But it looks terrific, with sleek animation that moves back and forth between human and troll worlds with fluid skill.

Trollhunters has a nice vibe to it. There is an '80s "Goonies" flair, but it is also has intelligence and flashes of wit, such as when a creature hums "In the Hall of the Mountain King" by Edvard Grieg as it goes in for a kill, or when Toby finds out Juliet dies in "Romeo and Juliet." Otherwise Trollhunters follows the formula for these sorts of stories, uncomfortable teen by day and superhero at night.

What makes Trollhunters stand out, in the early episodes, is another del Toro trademark: the design of the monsters, who are significantly more interesting to look at and listen to than their human counterparts.

The series goes down easily, with one-liners alternating professionally with well-designed battle scenes, and this obliging impersonality is why it's ultimately so dull, as zippy, attention-grabbing movement is prized over mood and poetry.
It's magnificent. A true enjoyment to both children and adults. Del Toro's magic universe continues to deliver the basics of imagination at

It's magnificent. A true enjoyment to both children and adults. Del Toro's magic universe continues to deliver the basics of imagination at its purest form.

…

I pulled my life's first all-nighter for this series.

It was entirely worth it. .... .... Okay, you found the secret review.I pulled my life's first all-nighter for this series.

It was entirely worth it.

....

....

Okay, you found the secret review. Here's your Ferrero Rocher or whatever.

This series is something special. It really is.
THIS series alone made me USE Netflix.
It's clean, it's family-ready, and it strikes the ideal balance dark and scary + butterflies and fairies, so to speak, that Disney films often have an excellent command of.

To draw an comparison between Disney: In Disney's "Zootopia", there was a certain angle to it that I'd been craving in animation for a long time: a greater sense of human depth. Complex backstories and moments with the kind of conversations that typically only play out between real, functioning human beings.

I think, in some aspects, Trollhunters does this better.
I believe this is because it has all the time it needs, just from being a series.

There are characters that are largely one-sided, and for what they're worth, that's good enough. Eli, for instance, is the single greatest character ever conceived, despite being a tertiary character, and he has about as much purpose as an empty water bottle laying beside a recycling bin.

But there are other characters who begin to unravel much further throughout just 26 episodes, and often sooner than 26. There are moments of awkwardness, but not the kind of "I've never even had an awkward experience in my life so I'll throw what I think constitutes that into this" awkward moments. They feel like things I would blurt out, like "thanks!" where no thanks was due or contextually appropriate, and the embarrassing tension between all parties involved just slowly dissipates, as people try to forget the flubbed time. I've never really seen this kind of wrench thrown into a cartoon before, but there it is in all its awaited glory.

Despite some unusual pacing through some episodes, as well as false conclusions and sometimes jolted climaxes here and there, all of these elements still come together to form a largely germane series, just with some new left hooks that nonetheless kept me addicted. Not surprisingly, satisfying bonds are formed throughout, as well as predictable ones. But there are some surprising bonds that arise out of unusual situations, and as the creative team rolls with them, these stranger bonds emit the same kind of satisfaction that the more intuitive ones emit. There are still morals-to-the-story per episode, and the run time for each would fit on a Cartoon Network time slot, if ever the need be. But it's just a BETTER animated series than most of what have been coming about, as this is a genuine, quality series from a studio that, let's face it, has played 2nd or 3rd fiddle to Disney for years. I think, had Del Toro not been directing this, this wouldn't be as good as what it is and what it should be. I think this time, Dreamworks has just one-upped Disney for a change.

It's only a matter of time before this really catches on. Anyway, I need to earn back that sleep.

…

This show is really fascinating. The first episodes are a little bit slow-going while introducing the background. The further episodes are

This show is really fascinating. The first episodes are a little bit slow-going while introducing the background. The further episodes are perfect with the right amount of humor and the right degree of suspense. The animations are very lovely and full packed of details. They are looking customized not generic nor synthetic. Trollhunters, much like e.g. The Simpsons, understood how to gripped children as well as adults. I would love to see more seasons.

…

Trollhunters is an enjoyable watch for all ages as there is plenty of slapstick humor countered by many dark moments for older viewers. This

Trollhunters is an enjoyable watch for all ages as there is plenty of slapstick humor countered by many dark moments for older viewers. This series is a perfect mixture of Labyrinth's mystical exploration and Spider-Man's coming-of-age teenage drama.

…

The show grows on you as you go on no matter your age. The voice cast is excellent. While late Anton Yelchin is irreplaceable as the voice of

The show grows on you as you go on no matter your age. The voice cast is excellent. While late Anton Yelchin is irreplaceable as the voice of the lead hero Jim. Yet, if there's a season 2 someone will have to take his place sadly. You realize he's the heart of the series as you go on.
I found the show some-what cheesy at first but it becomes more charming and fun as it goes on.

…

A big bet of animation from Dreamworks direct to Netflix, inspired in creative ingenuity of Guillermo del Toro. Has the adequate dose of

A big bet of animation from Dreamworks direct to Netflix, inspired in creative ingenuity of Guillermo del Toro. Has the adequate dose of action, thrills and comedy, with characters well developed and surprising.

…

I am really not a fan of animated cartoons using obvious computer animation tools, without inspiration, it produces bland, generic animation.

I am really not a fan of animated cartoons using obvious computer animation tools, without inspiration, it produces bland, generic animation. I don't find Trollhunters graphics appealing at all, like a generic creative order rather than a work of passion.

If you want to see an animated series and have not yet watched Avatar the last Airbender, choose this over Trollhunters. Both kids and adults will find satisfaction there and character. Or give a shot at this year's One Punch Man which almost transcends its manga roots through its playful absurdity around manga tropes.

I feel Trollhunters visibility is mainly due to Del Toro's name. Period.
It is not enough to make it a series to remember and is a huge let down for a mature spectator.

…