Network:

Hulu

Series Premiere Date:

Sep 14, 2018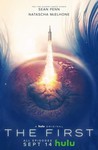 Summary:

Laz Ingram (Natascha McElhone) heads up a crew that attempts to become the first humans on Mars in this sci-fi drama series created by Beau Willimon.

Genre(s):

Drama

,

Science Fiction
Season 1 premiere date:

Sep 14, 2018

Episode Length:

60
The middle section of Season 1 features some of the best character development, perspective shifts, and overall writing this year.

What The First is: a surprisingly affecting drama about several families and a planet in crisis.

Hagerty and Ingram do, at times, veer toward predictability but it doesn't impede the series overall feel (and, let's face it, this is a series that needs viewers to be emotionally invested in its characters.) Willimon's writing, pacing and sense of place, so evident in "House of Cards" (particularly in Seasons 1 and 2) resonates here.

It's that feeling of endlessness, of shapelessness, that makes this collection of mostly interesting parts uninspiring.

The First is under no burden to be as quippy or feel-good as The Martian, as awestruck as The Right Stuff, as gee-whiz as Apollo 13 or From the Earth to the Moon. But it needs to have some compelling reason to tell this story, in this way, and it never really finds one.

Visually compelling with a nicely pensive music score--courtesy of Colin Stetson of Arcade Fire and Bon Iver--The First is otherwise plodding and padded.

At every turn, The First is far more interested in lingering shots of Tom in pensive thought, or delivering a monologue about man's destiny for space travel, or grieving for his dead wife. And perhaps that would've been fine if the show had something else to offer, but it also misses the mark in telling a genuinely compelling story about space travel.
A bit slow at points but episode 5 is as stirring and surreal of television I've seen in a long time.

Fantastic brilliant show nice to see sean penn back at what he does best. Cant wait for season 2

Amazing show and amazing performance from Sean Penn. I can understand those who give it a unfair low score, just because the show is not as

Amazing show and amazing performance from Sean Penn. I can understand those who give it a unfair low score, just because the show is not as they expected, not because of the show itself. It's not a Sci-Fi it's a wonderful drama.

…

While there's a lot to appreciate in the writing and shooting of this drama, and Sean Penn does a surprisingly outstanding job, the whole

While there's a lot to appreciate in the writing and shooting of this drama, and Sean Penn does a surprisingly outstanding job, the whole series is quite boring. If you're interested in TONS AND TONS of character development, relationship complications, and social issues salted with the slightest bit of sci-fi, then this may be for you. I can't deny some inventive cinematography and unique vignettes here, though a good bit of the non-relationship writing is a tad simplistic (as relates to government/science issues).

That this is a series about going to Mars is basically a MacGuffin to just drive the drama.

While I enjoyed Solaris (2002) for what it was, it was like having to watch an 8-hour version of that style. It is a mature, complex drama, though, if that's what you're looking for.

It barely gets a 4 because I hate to give it a negative rating. It does have artistic merit. I didn't find it to be that enjoyable, though.

…

The narrative is extremely disjointed and is marred by a lot of self indulgent scenes that go no where. They had an interesting premise then

The narrative is extremely disjointed and is marred by a lot of self indulgent scenes that go no where. They had an interesting premise then pulled out various plot points randomly out of a hat and shoved them into the story whether they fit or not. Nothing much happens, the characters are pretty much one dimensional, even though Sean Penn tries his hardest to bring some life to his. It like listening to a four year old tell a meandering story about nothing. This happens, then this happens, then this happens… it's a Hulu snore-fest.

…

Its a family drama show.
Any claim to be science fiction is ... less then 1-2% of the show.
It could be called " the papper work and brownIts a family drama show.
Any claim to be science fiction is ... less then 1-2% of the show.
It could be called " the papper work and brown nosing done to get a mars mission of the ground by depressed people and their families on the brink of full collapse" but nobody would go and watch it way to honest.

…

This review contains spoilers

, click expand to view

. I like Sean Penn. the actors in the series were famous. I did not find the series interesting though. There was drama, but not a lot of real technical data. Sure it showed the SLS and dramatized the risks. If the person in question had so much personal distraction drama, they would have been grounded from a flight. I am sure there will be a second season because there is a lot of unfinished questions.
What was the deal the old-fashioned dial phone??? is that a terrorist plot???

I do hope the second seasoned delves further into the technology and less on the sappy emotional stuff (bah)/

…