Network:

PBS

Series Premiere Date:

Nov 10, 1969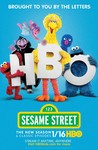 Starring:

David Rudman

,

Eric Jacobson

,

Carroll Spinney

Summary:

The long-running children's show changes to a half hour format and airs on HBO for its first run before airing on PBS nine months later for its 46th season.

Genre(s):

Comedy

,

Kids
Season 46 premiere date:

Jan 16, 2016

Episode Length:

60
Please enter your birth date to watch this video:
You are not allowed to view this material at this time.
There are lots of other small touches--or technical flourishes--along with new cast members, notably Nina. Otherwise, best of luck finding anything radically different because there isn't all that much that's changed.... This is a "win-win"--for HBO, public TV, its most iconic series and those kids.

A look at the first pay cable episode of the iconic kids show reveals that it offers the same mix of fun, education and goofiness that has kept Sesame Street a powerhouse piece of programming for 46 years.

In the season premiere, the primary story line involves Nina, as a babysitter, trying to get Elmo and Abby to calm down enough to be put to bed. "You're too excited," she says. "You need to do something relaxing." This is already a better premise for a half-hour show than 98 percent of the frenetic sitcoms on the air.... The Sesame Street touchstones remain in place: There is the letter ("B") and number ("10") of the day, for example.

Sure, Sesame Street has been gentrified, but it hasn't lost its charms. How you get to Sesame Street might be different, but the destination? As familiar as ever.

Like the newest digital tablet, the latest Sesame Street isn't an essential. But it's nice, if your parents happen to have the money.

The biggest change is that the show is a half-hour, not an hour. Still, it's close to business as usual, or at least as usual as in the last several years. Still, it's close to business as usual, or at least as usual as in the last several years: It's still incredibly Elmo-centric, to the chagrin of those who preferred the more Big Bird–focused early years, though our fuzzy red friend grates less than the lavender fairy Abby Cadabby, introduced in 2006, whose true purpose remains unclear.
Sesame Street is just 2 years younger than I am, so I have literally grown up with it. I definitely wanted to check out the new HBO half hour

Sesame Street is just 2 years younger than I am, so I have literally grown up with it. I definitely wanted to check out the new HBO half hour format to see how much it has changed. It is basically the same with a letter and number of the day and lots of goofy antics, but it is missing the old school feel. It is totally Elmo centric and you hardly get to see much of Big Bird and Oscar the Grouch these days, but it is still a great show for young children. I was just hoping it would take me back to those days when I was a child, but the feeling was not there.

…