Network:

Netflix

Series Premiere Date:

Dec 18, 2015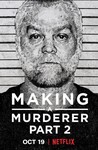 Summary:

Moira Demos and Laura Ricciardi return with another 10 episodes as Steven Avery's lawyer Kathleen Zellner and (Avery's nephew) Brendan Dassey's lawyers Laura Nirider and Steven Drizin work on reversing their convictions.

Genre(s):

Documentary
Season 2 premiere date:

Oct 19, 2018

Episode Length:

30
Please enter your birth date to watch this video:
You are not allowed to view this material at this time.
Murderer has clearly learned some lessons from season 1, and the new episodes attempt to anticipate sources of potential backlash and parry them pre-emptively. ... Whether or not Murderer helps Avery and Dassey or seals their fate, it remains a vital reminder of the need for transparency in the criminal justice system. But the series never loses sight of the many human tragedies at the center of this ongoing legal saga: The murder of a beloved young woman, Teresa Halbach.

Ricciardi and Demos employ sober, straightforward aesthetics to scrupulously detail every aspect of their tale, never better than in late sequences in which Zellner explicates her theory about the actual fate that befell Halbach. Much like lawyers arguing in front of a jury, the directors present their findings with exhaustive precision, even as they craft a larger panorama of the case's sprawling cultural connections and impact.

Both storylines come with moments of triumph and disappointment for the respective teams in season 2, but it's Zellner's case, with its bloody reenactments, science experts and her fascinating and relentless brain at work, that will keep viewers in their chairs.

As entertainment, Murderer remains expertly made, its seductive slow pace gripping viewers by the neck; as morality play, its terms are kept blunt and simplistic enough by Zellner to come through. As advocacy, though, it achieved precisely the opposite of its mission from the start. Building a season around a few years of thwarted Avery and Dassey appeals, cases blunted by the very enthusiasm that the show fostered, ends up lacking much of a point at all, beyond sustaining itself as a TV show.

It is a less shocking, more plodding, in-depth procedural that depicts the legal steps required to attempt to overturn Dassey's conviction.

Right now, Part 2 feels like false hope, and the filmmakers would've been better off waiting for something to happen before pushing out another wearying report.

It's fitfully interesting to see Zellner mount her new defense, but the fact that both Avery and Dassey are still in prison doesn't exactly make you want to race through the series to witness a triumphant conclusion.
This review contains spoilers

, click expand to view

. The first season was a rollercoaster ride of, "did he do it, did he not do it" there was a lot of doubt and confusing accounts. I was half convinced of Steven's innocence after watching season one, after watching season two I am completely convinced a severe miscarriage has taken place and Brendan & Steven are both innocent.

Season two is an entirely different perspective on the case. It largely centres around Kathleen Zellner who is attempting to get Steven Avery exonerated, as well as Brendan Dassey's legal team attempting to get his confession thrown out.

Zellner is arguably the cornerstone of this season. I thought season one would be hard to top, but season two had me on the edge of my seat. Towards the end of this ten-part season, I was feeling shaken, helpless and angry for Brendan and Steven. The interview with the ex-Mantiowoc County coroner is what really shook me the most when she detailed how she was prevented from attending the crime scene and how no coroner was ever present.

Kathleen Zellner needs her own TV series after she gets Steven released. She is full of energy, she is calculated and calm, we get to see her firing a gun in one episode and her relentless pursuit of the truth has you wanting more. Her persistence and lengths she is willing to go, speak volumes of just how sure she is of Steven's innocence. I have no doubt in my mind that she believes Avery is 100% innocent.

The heartbreaking parts of season two are seeing how Steven's family has been affected. We see Avery's scrapping car parts for metal to make money and live. Their livelihood and business have been completely destroyed, seeing Steven's parents age and hit 80 make you feel worried that they'll pass away before Steven is released.

This case is going to be taught in legal classes all over the world when it is over.

…

This review contains spoilers

, click expand to view

.

I could not stop watching. I watched the entire season the day it was available. I am absolutely blown away by the time, and energy Kathleen Zellner has invested into searching for the truth. MAM2 is both riveting and emotionally draining. I have started watching it again because I am so intrigued with her tenacity in learning from the experts what every single piece of evidence means. She is right, there is no way to recreate what the prosecution says happened. Ken Kratz is an embarrassment to the human race and a clear example of why prosecutors need to be held accountable for misconduct.

…

Even better than the first season, because Kathleen Zellner leaves no stone unturned, and continues to shine a bright light on the truth, on

Even better than the first season, because Kathleen Zellner leaves no stone unturned, and continues to shine a bright light on the truth, on the corruption of Manitowoc county, specifically of already disgraced prosecutor Ken Kratz, on who really murdered Teresa Halbach, because ultimately she never got true justice. And on the slow and sometimes unreasonable justice system, specifically in Wisconsin. I can't wait for the next installment of this story, can't wait to see Dassey and Steven get the lives they so deserve, hopefully not too slowly, and to find out who really committed this crime, how deeply the police were involved, and specifically Ken Kratz's reaction when he realizes the Truth has finally caught him, and all his appearances, his books full of absolutely ridiculous fantasies, and his only convictions in his entire career were bogus.

…

This show is so well put together; it's so fascinating to see real life playing out in the fashion (albeit hard to accept at times). Hard to

This show is so well put together; it's so fascinating to see real life playing out in the fashion (albeit hard to accept at times). Hard to put this down... I inhaled this 'season' in just a week. Also wishing I'd gone to law school.

…

This documentary unveils a total miscarriage of justice! It is appalling that Mr. Kratz concealed evidence from Mr. Avery's defense team! How

This documentary unveils a total miscarriage of justice! It is appalling that Mr. Kratz concealed evidence from Mr. Avery's defense team! How do these people sleep at night? It is also a disgrace that law enforcement took advantage of Brendan Dassey's disabilities and put him behind bars! Now not one, but two victims of this corrupt system are suffering for a crime they did not commit! Let's also not forget that the real murderer for Teresa Halbach is still out living their life in the free world while the innocent pay the price! I'm sure her family would like to seek justice for her murderer which clearly is not Steve Avery or Brendan Dassey! I pray that Mr. and Mrs. Avery get to see their son released before they pass from this world. I pray the same for Brendan's parents.

…

I am absolutely blown away by this show! Both seasons have sent me through a whirlwind of emotions. I have never felt so much sadness as I do

I am absolutely blown away by this show! Both seasons have sent me through a whirlwind of emotions. I have never felt so much sadness as I do for the Avery, Dassey, and Halbach families, and I have never harbored so much disgust as I do for Ken Kratz, the Manitowac police force, and the US judicial system. Do yourself a favor and binge watch this NOW!

…

This is not a documentary. It is a fictional account of the Teresa Halbach murder case told from the point of view of the killer's lawyer,

This is not a documentary. It is a fictional account of the Teresa Halbach murder case told from the point of view of the killer's lawyer, Kathleen Zellner. Plus it is boring.

…