Network:

The CW

Series Premiere Date:

Oct 25, 2018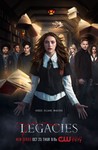 Summary:

17-year-old Hope Mikaelson (Danielle Rose Russell) and Alaric Saltzman's twins, Lizzie and Josie Saltzman are some of the students at The Salvatore School for the Young and Gifted in this spinoff of The Originals.

Genre(s):

Drama

,

Fantasy
Season 1 premiere date:

Oct 25, 2018

Episode Length:

60
The pilot is confident and fun, and firmly establishes a new part of the world worth watching. [19/26 Oct 2018, p.92]

Legacies establishes its world fast. This is a supernatural "Riverdale" — which might be redundant, given the direction of that show this season. But after two series, the magic is thin and your interest may wane like the moonlight.

It's slickly produced, but it all comes back to a formula that CW has mined a few times too many, where raging teen hormones are further complicated by extraordinary abilities. Granted, vampires are undead, but it might be time for them to at least take a bit of a rest.

A pilot that's conspicuously bland, but not without some fresh-faced CW-style appeal.

Legacies must be given credit for boldly confronting the bigoted myths about lycanthrope/Wiccan miscegenation. And its continuing salute to Our Friend The Mouse (perhaps an allegorical reference to Disney?) is welcome and educational. Who knew rodent entrails could be used in so many spells?
Love the fact there is a new spinoff to the vampire diaries and the originals.
trailer was geat so i guess the pilot will be great to

Legacies is fun, light and full of potential if its continue to go in the right direction