Network:

NBC

Series Premiere Date:

Dec 16, 2014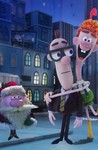 Summary:

The stop-motion animated Christmas special based on the 2003 theatrical movie Elf and its Broadway Musical follows Buddy (voiced by Jim Parsons) as he travels to New York City to meet the father he never knew.

Genre(s):

Animation

,

Kids

,

Music
Show Type:

Special

Season 1 premiere date:

Dec 16, 2014

Episode Length:

60
Elf: Buddy's Musican Christmas should be on the Christmas TV calendar for years to come.

Elf: Buddy's Musical Christmas probably won't become a classic, but it's a fun break from the usual standards.

[Elf: Buddy's Musical Christmas is] clever enough for adults, sweet enough for young kids and musically inventive enough to please the worst Scrooge.

Narratively and emotionally rushed, at least Buddy's Musical Christmas smartly emphasizes its animated nature, through visual inventiveness and top-flight voice talent.

As holiday newcomers go, this is much better than socks and underwear from Grandma. Just don't expect a shiny new train set.
I must say I really enjoyed this I personally thought that it was a terrific special for. Christmas full of fun and over all joy for everyone

I must say I really enjoyed this I personally thought that it was a terrific special for. Christmas full of fun and over all joy for everyone good spirits good heart and fantastic humor highly recommend it loved buddy the elf hilarious I think if u try it u will too so what are u waiting for get your family together and watch it today

…

Elf: Buddy's Musical Christmas is an extraordinarily underwhelming and rushed rehash of a story we've already seen before, turning that

Elf: Buddy's Musical Christmas is an extraordinarily underwhelming and rushed rehash of a story we've already seen before, turning that feeling of the holidays into slightly marketable indigestion.

The actors that they got for this are obviously the best part. Jim Parsons, Gilbert Gottfried, Rachael MacFarlane and Mark Hamill all do what they can with what they're given. But even this amazing cast cannot fix what is essentially a broken script. This "holiday special" has incredibly judgmental and harsh characters. You have a Santa who is sick and tired of the cheer and love for Christmas (despite NEEDING it to fly his sleigh), a rather quick to hate Buddy who talks about how awful kids on the naughty list are, and scary as hell blue elves with incredibly sharp teeth practically taking up the entire shot. And we're supposed to root for these people!

If you have a hankering to see a Elf, just watch ELF. Not this undercooked redo only meant to cash in on someone else's success.

…