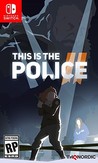 Summary:

Interpret the law as you see fit. Run the sheriff's department, manage your cops, make tough decisions – and try to keep out of prison yourself – in this story-driven mixture of adventure, strategy, and turn-based tactical combat.
Developer:

Weappy Studio

Genre(s):

Simulation

,

Virtual

,

Career

# of players:

No Online Multiplayer

Cheats:

On GameFAQs

Rating:

M
Please enter your birth date to watch this video:
You are not allowed to view this material at this time.
This Is The Police 2 - Official "Welcome to Sharpwood" Trailer
This Is The Police 2 is a management and strategy title similar to the first game. The playable additions and its story will delight the new fans and those who wanted more after the first part. Its graphics are great, although some of its tunes are repetitive.

Despite its flaws, especially on plot, This is the Police 2 still manages to be a compelling piece of gaming. With gameplay that can really suck players in and no shortage of police-style problems to deal with, it's definitely an experience worth looking into.

This Is The Police 2 is a distinctive and multi-faceted management sim with a fresh tactical edge. However, its list of punishing demands, perpetually scarce resources, and sluggish storytelling can sap the game of joy and momentum. There's a lot to do, and a fair amount of that is fun, but it feels like the game's many systems and demands are competing both for scarce virtual resources and your strained attention. In that sense, you'll come to relate to Sharpwood's put-upon new Sheriff all too well.

This is the Police 2 tries to take every single element from the first game and turn them into something more complex and compelling. While its distinct art style brilliantly portraits a narrative about crime and corruption, the new addictions result in a convoluted game, more frustrating than its predecessor.

This is the Police 2 is a great strategy game where things are always trying to get out of hand. Dealing with the minutia of an officer calling in sick, while also chasing down bad guys feels as chaotic and hard to balance as it should do, but never unimportant. The story feels too separate to the game's mechanics, which is a shame because it is compelling and well presented.

I appreciate This is the Police II in that it tries to be a more ambitious game than the original. It still carries aspects from the first game that I liked, such as the atmosphere and narrative. But between the sharp increase in difficulty, juggling the various gameplay elements and the long-winded storytelling, it simply isn't that fun to play. Sometimes trying to do so much dilutes what you're trying to accomplish, and This is The Police II is a prime example of that.
Update 31/10/2018 - As of today, a patch came out that fixes at least the gamebreaking bug I've described below, so they at least haven't just

Update 31/10/2018 - As of today, a patch came out that fixes at least the gamebreaking bug I've described below, so they at least haven't just abandoned the game. The game also got a new, much better icon and the loading screens so far seem a good 10x faster.

I don't have the time right now to test it thoroughly so will change my score to a neutral value and recommend buying with caution until I can play through it and I'll then update this review again.

Original review:

TLDR: Don't buy it in the current state on the Nintendo Switch, wait for a patch and if that never comes just don't play it, as you won't be able to regardless.

It's a fun game when it works, problem is it doesn't. In my case, it's literally IMPOSSIBLE TO PLAY through the game as on December 7(in-game days) I'm required to read a message to finish the day, yet the message bugged out and cannot be opened.

Positives:

- Fun, stealthy tactical missions, where going guns blazing usually is bad for you;

- Arguably good writing: So far not as good as the first game, but quite solid none the less;

- Your officers are unbearably fussy, but when you get used to it it actually adds up to the management game, although it breaks realism completely.

Negatives:

- The game is littered with bugs, some more breaking than others. As stated above, I can't continue my game because it's stuck on a day that I can't finish. I've tried restarting the console, reloading my save, different controller schemes, everything I could think of, no cigar;

- No touchscreen support;

- If using a pro-controller, you can't scroll through mission text and you can't just plug another controller, it requires either a dock/undock or a game restart. You can scroll in handheld and with detached joycons;

- If you use the up dpad button a few times to scroll through menus it stops working for no apparent reason, you're forced to scroll up with the analog although you can still scroll down with dpad;

- Some of the mission options are untranslated, I'm playing in English and have had to attempt to read what looks like Russian, but this hasn't been major yet;

- There are more obvious bugs that I've run into but those don't really affect your experience and are mildly annoying at most.

I loved TITP1 and I really want to love TITP2, but I simply cannot recommend this to anyone until they fix it, and I will update this review if they do.

…

Honestly, i had fun playing the game till i quit the game on 27th December (nearly the end). The game doesnt load anymore "Problem loading the

Honestly, i had fun playing the game till i quit the game on 27th December (nearly the end). The game doesnt load anymore "Problem loading the game" - try again - endless.
My savegame is lost, i can't finish the game without restarting. As long as i can't play my existing savegame i will never buy a THQ game again. Don't buy this game, there's always a chance the savegame is lost and you have to start again! Save the money for something else.
I will correct the review if this bug will get fixed.
EDIT: The last update still does not load my broken save game. I will not restart the game - i can't trust THQ anymore.

…