Publisher:

Nintendo

Release Date:

Nov 16, 2018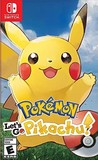 Summary:

Catch Pokémon Like Never Before. The Poké Ball Plus is a Poké Ball-shaped device that can be used to play Pokémon: Let's Go, Pikachu! and Pokémon: Let's Go, Eevee! in place of your Joy-Con. You'll be able to throw Poké Balls in-game with a flick of your wrist! In addition to motion controls,

Catch Pokémon Like Never Before. The Poké Ball Plus is a Poké Ball-shaped device that can be used to play Pokémon: Let's Go, Pikachu! and Pokémon: Let's Go, Eevee! in place of your Joy-Con. You'll be able to throw Poké Balls in-game with a flick of your wrist! In addition to motion controls, the device lights up with a variety of colors, vibrates, and plays sounds. With the Poké Ball Plus, you can also take one of your favorite Pokémon from these games for a stroll as you go about your daily life in the real world. The Poké Ball Plus even works as a Pokémon GO Plus when playing Pokémon GO.

Pikachu or Eevee:
Which Will You Choose?

Pokémon: Let's Go, Pikachu! and Pokémon: Let's Go, Eevee! bring the experience of a classic Pokémon RPG to Nintendo Switch with gameplay that is easily approachable for newcomers to the series, but is also deep enough to keep veteran Trainers on their toes.

The games also have two-player simultaneous play, so you can take the journey with a friend! And there's a deep connection between Pokémon: Let's Go, Pikachu! and Pokémon: Let's Go, Eevee! and Pokémon GO, so fans of the hit mobile game will find even more to enjoy.

…
Developer:

Game Freak

Genre(s):

Action RPG

,

Role-Playing

,

Trainer

# of players:

Online Multiplayer

Cheats:

On GameFAQs

Rating:

E
Please enter your birth date to watch this video:
You are not allowed to view this material at this time.
Nintendo Switch - Pikachu & Eevee Edition Official Trailer
Whether it's your Pokémon entry point or you're returning to Kanto yet again, Pokémon Let's Go is for everyone. The lame motion controls aside, this is adventure perfection, not once feeling jaded after dozens of hours' play.

Pokémon Let's Go Pikachu! is likely to be a divisive game. It has many of the hallmarks of a main-series game, but also features many aspects taken directly from GO. But surprisingly, against all odds, this grand experiment in Pokémon's core mechanics delivers an experience that feels as fresh and unique. It's not perfect, and it won't be for everyone, but if you're willing to put aside your preconceived notions of Pokémon for just a second, you'll find an excellent game that's fun, approachable, and even a little magical.

Pokémon: Let's Go, Pikachu & Eevee are strong remakes of the original games. The feeling of amassing a giant collection of monsters and customizing your team never gets old, and the timeless turn-based combat is still fun to this day. Shoddy motion controls aside, Let's Go is a great time whether you're a die-hard fan or a newcomer to the series.

The game does a superb job of striking a balance between being an easy route of entry for newcomers to the series and offering just enough post-game challenge and competitive play elements (and nostalgia, of course) to please series veterans; as a result, these new titles really do offer something for everyone, which can't always be said of the mainline Pokémon entries. They might not be an absolute masterpiece, but we'd urge any Poké-fans out there to give these ones a go – if a Let's Go Johto sequel is on the cards, we'll happily be there waiting in line.

Pokémon Let's Go mightn't be for hardcore, competitive fans, but it will certainly win over everyone else. A vast majority of the changes are certainly for the better.

It should not be denied that the diptych can be a very good entry point for novices, a modern bridge that allows it to move from Pokémon GO to a "more videogame" experience without getting lost in the network of technicalities proposed by the recent RPG episodes.

Let's Go is surprisingly shallow when compared to just about any Pokemon game, despite an appealing presentation that returns players to a popular location.
This is a very good reboot of the Pokemon main titles, with some improvements that a lot of people will like.

When I first saw the trailer for this, I was overwhelmed with nostalgia. It didn't matter that it was "another" remake. It didn't matter that

When I first saw the trailer for this, I was overwhelmed with nostalgia. It didn't matter that it was "another" remake. It didn't matter that it was very much geared towards kids of this generation. What mattered is that it was Pokémon. I maintained that thought process through the reveals, always sharing them with my seven year old son. I can't tell you how moved I was when he realized he could put Psyduck in the Pokeball and take it for a walk with him.

We waited, patiently for the day that it came out. We stood outside GameStop for nearly two hours, just to make sure we got our copy as soon as possible. And we've both been so happy. We've been playing it non-stop, except to go for walks with Psyduck!

The mechanics are simpler. Feed a berry, throw a ball. It's not complicated. This is actually good in my opinion. I could try and explain IVs/EVs and stuff to my son, and he wouldn't understand it now. What he does understand is "That's a big Psyduck", and "That Psyduck has a blue number for speed so that means it's faster!" Simple. Easy. Clear. It's a good way to ease the newer generation into a franchise that's been going since we were kids.

There's enough new things to keep it exciting while being nostalgic (at least in my opinion).

I get that a lot of people have reviewed this game and given it a negative score because it's a "dumbed down" version of Yellow. But think about it from a younger child's perspective, and remember that this IS a kid game. It was advertised as being a kid game.

Go back to when you were a kid and none of those things mattered. None of them existed. Pokémon: Let's Go, Pikachu/Eevee is this generations Blue/Red/Yellow. Think of it from that angle and you'll realize why this game is so amazing.

…

This is the BEST Pokemon game in years. It looks super clean, is a nice throwback to the old days and has plenty to do for the avid pokemon

This is the BEST Pokemon game in years. It looks super clean, is a nice throwback to the old days and has plenty to do for the avid pokemon fan. Ofcourse smogon players aren't real pokemon fans so they'll just bash this game, while its actually one of the best iterations in the franchise! I can recommend it to anyone who loves pokemon:)

…

B-but its just for kids!
Think about that for a minute
This is a game aimed at kids that lacks a VERY good portion of the depth fromB-but its just for kids!
Think about that for a minute
This is a game aimed at kids that lacks a VERY good portion of the depth from previous games in the franchise, that were also aimed at kids. The lack of items, abilities, wild battles, being able to evolve your starter, and well over 600 pokemon isn't made up for by the "new" addition of ride/following pokemon. Not to mention despite only having 151+2 pokemon to make animations for you still have pikachu jumping in place basically t-posing for half its moves. Compare it to a game like digimon cyber sleuth which had a fraction of a fraction of the budget this game did and still managed to give every one of its 250+ digimon unique animations. The low quality from this game and the amount of features they've added and removed from pokemon over time is unforgivable for a franchise that's grossed 60 billion dollars.
That being said if you're 3 years old or didn't play any pokemon games outside of yellow? Sure, go nuts. But keep in mind when you buy that even if you enjoy the game you're supporting lazy development and developers that don't have the slightest clue what the fanbase wants outside of nostalgia pandering

…

Simply ridiculous.
A literally copy/pasted map from a 20 years old Game Boy game, the same animation as USUM, no day/night cycle, zeroSimply ridiculous.
A literally copy/pasted map from a 20 years old Game Boy game, the same animation as USUM, no day/night cycle, zero difficulty...
Even the "positive points" are negated by the negative ones (ridable pokemon are cool, but not when the longest route is 10 paces long because they reused a lao from a Game Boy game).
Absolutly shameful coming from the highest-grossing video game franchise.

…

Heavily overpriced for a bland and unambitious game.
Painfully easy even for Pokemon standards. Cuts core mechanics like abilities andHeavily overpriced for a bland and unambitious game.
Painfully easy even for Pokemon standards. Cuts core mechanics like abilities and weather as well as more than 500 mons, thus making it very awkward for long time players and doesnt quite feel like the game that was gonna bring go players into the main franchise since... all the core mechanics of a main series game arent even there. And yes, its a kids game, but Nintendo themselves advertised it as a game "to keep veterans on their toes". Which is ridiculous.
Region got recycled for the 7th time, character animations got recycled from the 3DS models, which feels lazy. The battle animations are also extremely unimpressive considering the switch has very high potential in that regard. The frequent frame drops the game has are inexcusable for a 2018 game. As for the new additions:
Catching mons with motion controls feels klunky and bugs out often. Proper targetted catching can be bought for an additional 50$ and the Pokeball Plus is an absolute nightmare for controlling your character outside of the catching process.
Arbitrary requirements to enter gyms are now present, with one of them forcing your to enter a gym overleveled. Thanks for spoonfeeding me, Nintendo.
It is a pretty game. But thats about it. Not worth the 60$, and very disappointing for Pokemons grand entrance on the switch.

…

My birthday is literally the day after this game was released, and I was given it as an early gift "so I could enjoy it at the same time as

My birthday is literally the day after this game was released, and I was given it as an early gift "so I could enjoy it at the same time as everyone else".

I'm disappointed to say that I didn't.

I'd read so many negative things online on Twitter and elsewhere, and I was still determined to enjoy it in spite of the evidence before my eyes "because it's cute", "because it's Kanto", "because nostalgia". And I did, at first. Meeting Pikachu for the 'first' time, Pikachu meeting MC's Mom, was all very cute, but then it dwindled.

After the first half dozen or so Pokemon encounters, the process felt repetitive. A half dozen later, it felt like a chore. I figured I could get by with just catching what I intended to use, but no. The game enforces capture quotas for you to continue past certain points.I would honestly prefer mindless fetch-quests over this.

I stopped playing. No amount of willpower to enjoy it made me enjoy it. Pokemon has been part of my life since childhood, and the loyalty that roots in you still wasn't enough to make me enjoy this insulting cash-grab of a game.

I am genuinely disappointed that someone else wasted their money on this in my name.

One can only wonder how much was paid to those 37 critics for "generally favorable reviews", because my experience left me with barely anything positive to say.

…