Publisher:

Nintendo

Release Date:

Nov 16, 2018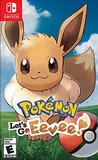 Summary:

Catch Pokémon Like Never Before. The Poké Ball Plus is a Poké Ball-shaped device that can be used to play Pokémon: Let's Go, Pikachu! and Pokémon: Let's Go, Eevee! in place of your Joy-Con. You'll be able to throw Poké Balls in-game with a flick of your wrist! In addition to motion controls,

Catch Pokémon Like Never Before. The Poké Ball Plus is a Poké Ball-shaped device that can be used to play Pokémon: Let's Go, Pikachu! and Pokémon: Let's Go, Eevee! in place of your Joy-Con. You'll be able to throw Poké Balls in-game with a flick of your wrist! In addition to motion controls, the device lights up with a variety of colors, vibrates, and plays sounds. With the Poké Ball Plus, you can also take one of your favorite Pokémon from these games for a stroll as you go about your daily life in the real world. The Poké Ball Plus even works as a Pokémon GO Plus when playing Pokémon GO.

Pikachu or Eevee:
Which Will You Choose?

Pokémon: Let's Go, Pikachu! and Pokémon: Let's Go, Eevee! bring the experience of a classic Pokémon RPG to Nintendo Switch with gameplay that is easily approachable for newcomers to the series, but is also deep enough to keep veteran Trainers on their toes.

The games also have two-player simultaneous play, so you can take the journey with a friend! And there's a deep connection between Pokémon: Let's Go, Pikachu! and Pokémon: Let's Go, Eevee! and Pokémon GO, so fans of the hit mobile game will find even more to enjoy.

…
Developer:

Game Freak

Genre(s):

Action RPG

,

Role-Playing

,

Trainer

# of players:

Online Multiplayer

Cheats:

On GameFAQs

Rating:

E
Please enter your birth date to watch this video:
You are not allowed to view this material at this time.
Pokemon Let's Go, Pikachu! And Let's Go, Eevee! - Gym Leaders, Elite Four And Familiar Faces Official Trailer
Whether it's your Pokémon entry point or you're returning to Kanto yet again, Pokémon Let's Go is for everyone. The lame motion controls aside, this is adventure perfection, not once feeling jaded after dozens of hours' play.

Nintendo and Game Freak have managed something quite special with Pokémon: Let's Go. It's a game that is so clean and streamlined that it is a near-perfect entry-level Pokémon experience for people new to the series. At the same time, it so perfectly taps into nostalgia that the oldest of old fans - people who really should have moved on, but can't because Pokémon is so damn charming - can find new ways to appreciate their hobby all over again.

In spite of the fact that the expectations weren't high after the first trailers, Pokémon: Let's Go is able to result, not only in a really good remake of Pokémon Red/Green, but in the biggest step forward in the franchise. Definitely one of the biggest and greatest surprises of 2018.

Far from a simple 3D "remodelization" for a more powerful, yet still portable home system, Pokémon: Let's Go not only refreshes the series' very first adventure, but also reflects the long journey since then, by wisely integrating evolutions such as Pokemon Go's capture system or partners in order to improve the modernity, accessibility and conviviality of the formula. A fantastic way to (re)start Pokémon, and a glorious conclusion for Junichi Masuda as director.

Pokemon Let's Go is engineered to let youngsters play along with their parents, but there's a lot here for veterans to enjoy, too. It's relentlessly cute and colorful, and while the challenge level won't blister your skin, the new Coach Trainers will keep you hopping. We're still not sure about the Go-style method of catching wild Pokemon, but Pokemon Let's Go's ability to link-up to Niantic's app offers a quick and easy way to fill out your PokeDex. Game Freak is clearly getting the hang of the Switch, so bring on Gen VIII!

Game Freak has pulled a Hannah Montana and found the best of both worlds here, solidifiying an experience that embraces newcomers without forgetting the hardcore that will be itching to dive in. Acting as what is essentially a remake of Pokémon Red, Blue and Yellow prevents this from being truly groundbreaking, but the foundations established here spell an exciting future for Pokémon on Switch.

Let's Go is surprisingly shallow when compared to just about any Pokemon game, despite an appealing presentation that returns players to a popular location.
This game brings out a diffrent part of Pokemon that is not fully used in the mainline games, the owning a mythical pet part of Pokemon. This

This game brings out a diffrent part of Pokemon that is not fully used in the mainline games, the owning a mythical pet part of Pokemon. This is what Hey You, Pikachu! Should have been. Could have been more a full spin-off then a remake of Kanto, and it could have used less of the Pokemon go parts eventhoug its not that bad in handheld mode, it does help with the nostalgia it was meant for. I really recommand this game especially if you are normally not a fan of JRPG games. But also for those who do like JRPG'S and mainline Pokemon games, because even if it's easy (mainline pokemon games are also easy) progression feels balanced trough the whole game and combining that with your Pokemon is really relaxing and fun.

…

Most fun I've had playing Pokémon since 2001! This is a breath of fresh air in an otherwise stale franchise.

Mejor juego para empezar.
El Remake del mejor juego de la historia en Pokemon :)

I'm going to be 100% honest on this game. I got it cause I'm a huge fan and I do think the game and although the mechanics work very well and

I'm going to be 100% honest on this game. I got it cause I'm a huge fan and I do think the game and although the mechanics work very well and that the game has great textures I still don't understand as to why they thought removing the Wild battle mechanics were a good idea, if they'd of just left the wild battle mechanics I bet you this wouldn't of had so much backlash. Hey obviously don't care about what we think or want, just try and make most money possible which seems to be Nintendo's new way of thinking. It's not horrible of a game, but it's dumbed down so badly it just doesn't deserve to have the price tag they're asking for, but in the end Nintendo has been over charging for their garbage ports for well over 2 years now, so what else should I expect. Thanks for nothing Nintendo keep at it you'll wind up exactly where sega is right now, a third party developer for the main family of consoles.

…

A really disappointing rehash stripped of depth difficulty and features because of the patronizing belief that mobile gamers and kids these

A really disappointing rehash stripped of depth difficulty and features because of the patronizing belief that mobile gamers and kids these days are adhd ridden dumbasses who will switch game at the slightest hurdle or semblance of difficulty so gamefreak feels like this game has to spoonfeed you everything and make it an overall trivially easy experience. The people settling for this are blind complacent fanboys who don't care about the quality of what they consume either because they idolize what they like to dangerous levels and adopt ''my team must win and can do no wrong'' tribalist mentality(which ironically enough they're the same people who will try to paint you as ''afraid of change'' when it's the same exact kanto just with GO mechanics instead of series staples) or casual players uninterested in challenging and in depth experiences and just want to have a relaxing and fun time, which is perfectly fine but I feel like previous pokemon games do a perfect job of being a fun experience for everybody no matter what kind of player you are and there's no need to dumb down a series iconic for being newcomer friendly and easily accessible. this just feel like a poorly thought attempt of trying to get more casuals in the series out of the mistaken belief they have to sacrifice everything long time fans enjoyed to do so, and also a way to test how many times they can get away with selling kanto over and over again. While the games themselves do have some redeeming qualities and aren't worth a 1 (probably a 5 imo as they're not atrocious but just painfully dull and mediocre), I feel like pokemon should remain appealing to everybody and strike a balance between the various markets and that the core idea of needing to make everything easier and dumber that sparked this game into being in the first place is completely wrong and shoudn't be encouraged.

…

Ninguna de las caracteristicas que hacen bueno a un juego de Pokemon las tiene este titulo, todo esta casualizado hasta el extremo solo un

Ninguna de las caracteristicas que hacen bueno a un juego de Pokemon las tiene este titulo, todo esta casualizado hasta el extremo solo un normie con pesimos gustos podria disfrutar esto.

…

El juego es realmente una burla para los fans, no lo compren, si velan por la calidad y el futuro de la 8va gen es muy importante no apoyar

El juego es realmente una burla para los fans, no lo compren, si velan por la calidad y el futuro de la 8va gen es muy importante no apoyar este juego.

…