Publisher:

Capcom

Release Date:

Aug 28, 2018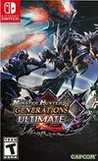 Summary:

This critically acclaimed action RPG series makes its debut on Nintendo Switch. Take on epic hunts on the go or from the comfort of your own home! Choose from 14 different weapon types, mix and match them with unique Hunting Styles and Hunter Arts, or even play as an adorable but ferocious

This critically acclaimed action RPG series makes its debut on Nintendo Switch. Take on epic hunts on the go or from the comfort of your own home! Choose from 14 different weapon types, mix and match them with unique Hunting Styles and Hunter Arts, or even play as an adorable but ferocious Felyne in Prowler Mode! Featuring the largest cast of monsters for any game in the series, from returning fan favourites to mysterious never-before-seen monsters. You can join up to three other players for co-op multiplayer action, either online or in person using local wireless. Join the hunt in Monster Hunter Generations Ultimate for Nintendo Switch.


…
Developer:

Capcom

Genre(s):

Role-Playing

,

Action RPG

# of players:

Up to 4

Cheats:

On GameFAQs

Rating:

T
Please enter your birth date to watch this video:
You are not allowed to view this material at this time.
Monster Hunter Generations Ultimate - Nintendo Switch Announcement Trailer
Monster Hunter Generations Ultimate is like buying a vinyl record of your favourite album. It's a little dated, a bit niche and to be honest, newer versions are more accessible and easier to interact with. But there's love there, what it does, is done incredibly well and while the series is moving on over on other platforms, this is the classic formula distilled into a version that can be played at home on a 40" TV or on the bus. You can play it on your own or call in some friends for the tougher G-Rank quests. Being a hunter has never been tougher, but if you're persistent, it's never been more rewarding either.

While it comes in the form of a no-frills port, Monster Hunter Generations Ultimate exists as the most thorough exploration of Monster Hunter to date. If you can get over its 3DS-era visuals, you're in for a seemingly endless experience you can easily devote a lifetime to—and one worth devoting a lifetime to. Whether you're new to the series, someone who started with Monster Hunter World, or just a fan of the previous 3DS games, you're bound to get addicted once MHGU gets its hooks into you. Just don't be afraid to ask for help.

Monster Hunter Generations Ultimate is not so easy to pick for new players, but extremely rewarding once you get into it. Technically speaking, its style feels too old for the new generation console: the Nintendo side of the Capcom saga needs, more than ever, a new, fresh beginning.

The Switch version comes to the West with more content than the original with a discreet but effective adaptation.

When you add all of the sensibilities of the Nintendo Switch to the mix, you've got yourself a robust little JRPG to sink your teeth into.

Quickly speaking, the game is very good even if it needs a bit of patience due to a slow start. The game brings a true sensation of hunting and all the satisfaction involved after learning it's ropes. Monster Hunter Generations Ultimate, unfortunately, also brings dated graphics and long loading times.

Generations Ultimate is a greatest-hits collection that doesn't go out of the way to re-contextualize why the hits are so great in the first place. While it still provides the thrills that made Monster Hunter huge, it's hard to argue the series isn't ready for something else.
Quite possibly THE best Monster Hunter to date which is a major step up from World both in challenge and longevity. While World's agenda was

Quite possibly THE best Monster Hunter to date which is a major step up from World both in challenge and longevity. While World's agenda was to introduce Monster Hunter to newer players, GU's agenda is punch them in the face and say "you don't know jack" and really treat players both new and old to a revitalizing experience that promises difficulty right out of the gates. While many players who have just came over from World are going to wonder why things are so different, it's because the training wheels are off and you're going to be playing Monster Hunter at it's finest. No glowflies, no running and chugging; every move you make will matter. So saddle up because Generations Ultimate is in town and it's taking no prisoners

…

thanks capcom.

anyway person reading buy this game. no qualifiers, buy it, and if you are more of a world person then simply don't play it.thanks capcom.

anyway person reading buy this game. no qualifiers, buy it, and if you are more of a world person then simply don't play it.

p.s. if you are not playing it because of graphics, qol, loading between areas, unresponsive controls, too difficult or frustrating then i suggest you get down on your knees right now and ask God to make you like it because this is trully a once in a lifetime experience and there is a good chance you will never be able to enjoy it again like this.

…

This game is amazing, I have played Monster Hunter since MH4U. Played World and this and I have to say its this game is pretty great. More

This game is amazing, I have played Monster Hunter since MH4U. Played World and this and I have to say its this game is pretty great. More content than all the other games combined it seems! Its a 10 for me.

…

This is the peak of Monster Hunter. Proper challenge, insane roster with all the fan favorites, thousands of unique weapon designs, transmog,

This is the peak of Monster Hunter. Proper challenge, insane roster with all the fan favorites, thousands of unique weapon designs, transmog, great online lobbies - it's all there.

If you're a Monster Hunter veteran I don't need to tell you about how awesome it is, you likely already know. Playing XX (aka MHGU) on the big TV with the Pro Controller is incredibly fun and the best way to experience it no doubt.

…

Monster Hunter Generations Ultimate for the Nintendo switch is a genuine pleasure to play.

With the old school Monster Hunter gameplay andMonster Hunter Generations Ultimate for the Nintendo switch is a genuine pleasure to play.

With the old school Monster Hunter gameplay and monster roster mixed with some elegant new playstyles, this is truly a masterpiece that both Monster Hunter veterans and new plays can enjoy.

The game does not hold your hand when it comes to its mechanics, which may turn a few players off if it is their first Monster Hunter game or they have just migrated from Monster Hunter World, but if you stick at it, you will eventually be hundreds of hours deep into the complex crafting, armour and weapon systems of the game.

Visually, the game may not look AAA like the beautiful Monster Hunter World, but it captures the charm of the older titles and upscales them to bring them into the console space.

The game also does not suffer from any lag spikes or long loading times like previous games on the 3DS or PSP and keeps a consistently high frame rate even when playing online.

The online scene for Generations Ultimate is booming with new and veteran players alike, all will to chip and help each other progress through the game. The online challenges and DLC are extremely fun and challenging and with collaborations with other games and developers, it keeps the game fresh and entertaining.

…

One of the biggest criticisms new players have when starting up for the first time is the fact that the game doesn't play as they would expect

One of the biggest criticisms new players have when starting up for the first time is the fact that the game doesn't play as they would expect it to. When starting out movement and combat feels slow, sluggish and at times downright clunky. This is all very deliberate and only after a good few hours pushing past this barrier will it start to click. For many though the low-grade graphical style, sheer oddness of its world and lack of a proper tutorial will be enough to encourage a player to move on to the next AAA. This would be a real shame.

Ultimate has nearly 100 large monsters to hunt which offers an insane amount of gameplay. It's not uncommon for Monster Hunter fans to boast about game saves that are over 500 hours. Ultimate is an expansion to Monster Hunter Generations which released on the 3ds now tweaked for the Switch and its a perfect fit for the console. Long time fans can even transfer their save file across providing they download a special DS app and can get online.

The game can be played solo but it really defeats the point of the game. Solo hunts have Monsters with far less health and are often easier to track and kill. The real fun is teaming up with 3 other hunters all using different weapons and buffs to take down a particularly vicious monster. Typically voice chat isn't an option as its a Nintendo game but the lobby systems and text options are more than ok to get a message across such as 'Im laying a trap' or 'I'm out of ammo' It's important to communicate and work together as everyone shares the same pool of three lives. Monster Hunter calls dying 'carting' and if you cart twice the tension ramps up as no mistakes are allowed otherwise its Quest failed. A benefit to the lack of voice chat is that the community feels far less toxic with only predetermined messages able to be sent -very family friendly.

For the purposes of this review, I invested 70 hours into the Japanese import released last year, 90 hours in the 3DS version of Generations and then a further 20 hours in the Western release after transferring my save file. What I have noticed is Capcom offer assistance to new players with free downloadable support bundles full of heath potions, traps and buffs you can take on the hunt without the need to work out how to acquire them through scavenging while out hunting and combining items. This is a huge help in easing the difficult first few hours of learning the game as its the huge array of stuff to learn in the hub world that can be so off-putting when all you want to do is get out and fight a monster. With so many weapons types, a separate Prowler mode where you can play and train a cat helper, 4 hub worlds all with NPC's to talk to and a separate online section, it can all be a bit overwhelming

Disappointingly there is little proper story, unlike Monster Hunter 4 and the recent World which had a strong narrative thread. Ultimate is focussed on the hunt. You can chat to NPC's but its all very basic exchanges mostly asking you to do something or thanking you afterwards. Capcom has released a number if unique quests to earn Nintendo themed Weapons and Armour (Link, Samus, Megaman, Ryu are examples) and these fit nicely into the game without being an odd addition. It's really pleasing to see an online player sporting these outfits as it shows they are devoted to the game and will be a worthy addition to any hunting party. It is worth pointing out that the solo mode is separate from Online, while you can take loot from each hunt a quest completed online will not transfer to the offline mode.

Conclusion
If your the kind of gamer who buys a new title then plays it to completion in a week, then part exchanges it for something new, Monster Hunter isn't for you, it doesn't have an end to it as such, its designed to become a regular part of your gaming life. You will want to increase your Hunter Rank to see what the next rank has to offer. New to Ultimate is a super hard tier called G rank which throws down some seriously tough hunts that will test your ability to work as a team, bring the right supplies and know each monster's weaknesses.

If you have only ever played world and loved it, Gen Ultimate may feel like a back step in the series history but that is a bit like saying Street Fighter 4 isn't worth playing now we have Street Fighter 5. Monster Hunter plays by its own rules and demands you work things out for yourself, it's eccentric and obtuse, portable and packed full of content but most of all its great fun.

Monster Hunter is life.
9/10
Amazing!

…

Monster Hunter Generations Ultimate… It's a step back in the right direction from World(Not saying World was bad). The content is there and

Monster Hunter Generations Ultimate… It's a step back in the right direction from World(Not saying World was bad). The content is there and the weapon and armor designs are more unique again with much more variation. That's the good news.
The bad is that it is painfully easy. I've resigned myself to never using the hunter arts or the styles(Using Guild style as picking one is forced down your throat) for the simple reason that the arts make the game even easier. The Addition of G-Rank keeps this game higher on difficulty than World.
The weapon stats show modified damages unlike every other game in the series which is annoying. Was something to do with balance...I can't remember the exact details.
Having to level your weapon is also the WORST thing they could have added to Generations. There was nothing wrong with how the weapons were upgraded or showing the unmodified damage numbers so why the hell was it necessary to change it. While it is sorta true that World has the same type of system, World did it much better in that regard.

All in all, while the game is better than World and is a step back in the right direction, it's still not quite what the loyal Monster Hunter fans wanted. (Cough cough Frontier cough cough)

Giving it a 6 since 6.5 is not an option and to be honest, it's mostly because I'm an old Hunter and miss the challenge.

…