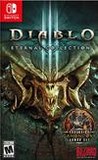 Summary:

Generations of gamers have battled the demonic hordes of Diablo, and now it's your turn to take part in the action-RPG legacy. This Eternal Collection features Diablo III, the Reaper of Souls expansion set and the Rise of the Necromancer packall together in one definitive volume. Prepare

Generations of gamers have battled the demonic hordes of Diablo, and now it's your turn to take part in the action-RPG legacy. This Eternal Collection features Diablo III, the Reaper of Souls expansion set and the Rise of the Necromancer packall together in one definitive volume. Prepare yourself, mortal hero. The hellgates are opening.

…
Developer:

Blizzard Entertainment

Genre(s):

Role-Playing

,

Action RPG

# of players:

Up to 4

Cheats:

On GameFAQs

Rating:

M
Please enter your birth date to watch this video:
You are not allowed to view this material at this time.
Diablo 3 On Switch - 11 Minutes Of Docked Gameplay | PAX West 2018
Seriously, I can't recall ever seeing the game hitch up or slow down, whether docked or undocked, which is a huge plus.

Diablo III Eternal Collection is a fantastic dungeon crawler and one that feels right at home on Nintendo's console. Blizzard's modern-day classic still shines brightly six years after its initial release on PC and now thanks to the Switch's portable functionality, your incessant quest for better loot will be able to continue wherever you are. Could this be the best version of Diablo III yet? I'll just say being able to slay monsters on my commute certainly makes a strong case.

Diablo III on the Switch is my new favorite way to play the game.

Diablo III lands on the Nintendo Switch, under the name of an Eternal Collection that brings two expansions to the original game. In what is without a doubt a magnificent adaptation of a monument of a game, players will find an immense challenge that will be accessible for beginners and compelling for veterans, with content that will easily reach over one hundred hours of gameplay, a top notch multiplayer component and the added handheld character of the Nintendo Switch. One of the finest games of the year to come out on Nintendo's console.

A very solid port with very good results in terms of framerate. Although image quality and resolution are not at their best, it's a sacrifice to make in order to play Diablo III on the go.

I can easily and wholeheartedly recommend Diablo III: Eternal Collection for the Nintendo Switch. Whether you've never played before or you've put in over a thousand hours, this game will pull you right in without a second's hesitation.

This compilation of Diablo III and its expansions underscores how far the gothic hack n' slash series has fallen.
Its very surprising to see Diablo 3 a Blizzard IP on the switch, But its even more surprising to see it run at 60 fps constantly and a good

Its very surprising to see Diablo 3 a Blizzard IP on the switch, But its even more surprising to see it run at 60 fps constantly and a good resolution! If you are a fan of loot based games, RPGs, or online multiplayer, This is the game for you! As a PC gamer, i gladly say this is the best way to play Diablo 3 without a doubt.

…

After playing the DOOM, Fortnite, and Paladins ports i had given up on high resolution, high frame rate games coming to the Switch, But boy

After playing the DOOM, Fortnite, and Paladins ports i had given up on high resolution, high frame rate games coming to the Switch, But boy was i surprised by Diablo 3, They ported this game right and the performance shows, A must have on the console

…

A great RPG that consumes the player with a vast amount of class, armor, and weapon variety. Fight your way through dungeons alone or with

A great RPG that consumes the player with a vast amount of class, armor, and weapon variety. Fight your way through dungeons alone or with friends. A dark and mystical story isnt much, but its enough to give you a reason for the grind, and the world around you. Would HIGHLY recommend!.

…

I didn't like D3 at launch (probably the worst launch i ever seen)

Friends of mine played a lot after ROS in seasonal HC, and i came backI didn't like D3 at launch (probably the worst launch i ever seen)

Friends of mine played a lot after ROS in seasonal HC, and i came back to play with them, i enjoyed it.

Now the Switch version isn't the best looking visually (mostly the characters).
Outside that it's the most enjoyable version of D3 i've seen by far.

Local MP, on the go MP are an absolute blast, Offline seasonal HC is great for farming. The game is perfect for short on the go session. You take the train, you pot the switch, you launch a rift or a bounty, you don't even the the time of the travel pass.

Regarding the control, i feel like console control are better than PC controls, directly controlling with the stick feel a lot better.

Overall, it's imo the ultimate version of D3.

…

Really good like the first one only problem I have is the style and the camera might not be for everyone but if you forgot about that its a

Really good like the first one only problem I have is the style and the camera might not be for everyone but if you forgot about that its a really good game if you have the money definitely try to get it.

…

My girlfriend and I have been playing this together and it's a really really fun co op game. 60 fps and no stuttering at all, great addition

My girlfriend and I have been playing this together and it's a really really fun co op game. 60 fps and no stuttering at all, great addition to the Switch library, especially for someone like me who has never played Diablo.

…

Don't buy the hype and the fanboy 10/10 scores. There is nothing about this which is 10 out of 10 except for portability. It is objectively

Don't buy the hype and the fanboy 10/10 scores. There is nothing about this which is 10 out of 10 except for portability. It is objectively the worst modern console version of Diablo 3: 960p while docked, frame rate drops, particle effects and enemy density at low (if not lowest) settings, online coop behind Nintendo's half-assed Switch Online service, the list goes on.

First Skyrim, now Diablo - 6 year old ports that are the worst versions of each but charging full $60 MSRP and inexplicably getting 10/10 reviews simply because you can play them "on the go". There's more to playing a game then being able to play it on my lunch break and I'm not willing to sacrifice quality for portability. Limited portability at that, given the Switch's lousy battery life.

If you already have this on PS4, XBO or PC, there's no reason to spend yet another $60 on this.

…