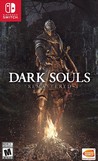 Summary:

Re-experience the critically acclaimed, genre-defining game that started it all. Beautifully remastered, return to Lordran in stunning detail. DARK SOULS: REMASTERED includes the main game plus the Artorias of the Abyss DLC.
Developer:

From Software

Genre(s):

Role-Playing

,

Action RPG

# of players:

Up to 6

Cheats:

On GameFAQs

Rating:

M
Please enter your birth date to watch this video:
You are not allowed to view this material at this time.
Dark Souls Remastered - PS4 Pro Gameplay
If you're someone who finds reward in developing deep mechanical understanding in games and is willing to die, a lot, in a bleak and uncaring world in pursuit of this understanding, Dark Souls Remastered could be a new favourite.

Dark Souls Remastered has built a reputation for its sadistic design. This can certainly be the case for anyone that dares to dive headfirst into danger without a second thought. What I took from the experience was a simulated life lesson in paying attention and thinking for yourself to work out how to smartly move forward to achieve small ambitious goals. Sure, the difficulty curve can seem daunting, but there is an answer to everything as long as you're willing to experiment. With all that said, there's a reason why Dark Souls has become such a massive influence in the games industry.

To me, it's the perfect afternoon.

If you're searching for a real challenge on Switch and haven't played the original before, look no further than Dark Souls: Remastered. It's going to be a daunting yet thrilling ride filled with frustrations along the way, but satisfying nonetheless in the end. Just be extremely patient, learn from your mistakes and you'll eventually feel right at home.

The game has extras and technical improvements, but graphically it is similar to the first version, the sound is bad and the additional contents are scarce. However, it brings a unique experience thanks to a great playable system and a wonderful world that rewards you with the sweetest death.

While Dark Souls Remastered on Switch possesses some odd quirks and isn't as technically impressive as its current-gen counterparts, it still retains the heart of what the original game is all about.

A hasty and superficial porting.
I played the original Dark Souls (& expansions) back in 2011 when they first came out on PS3, then again on PC. Luckily for me, I haven't

I played the original Dark Souls (& expansions) back in 2011 when they first came out on PS3, then again on PC. Luckily for me, I haven't played DS1 for at least 6 years so when I heard it was coming to Switch I thought it would be a perfect opportunity to revisit the game. The game is simply a masterpiece. I've read other user reviews complaining that this isn't actually "Remastered" and I've seen pictures that support that theory. My response? WHO CARES?! I was not actually expecting to see the same graphical fidelity as the PC or PS4 version because I'm realistic... Switch is a portable machine whose graphic limits are naturally not going to rival a PS4.

The fact that this runs as well as it does and looks as good as it does on a Switch are, quite frankly, surprising. The performance is solid and has not once dipped below 30 FPS. I was also worried that the precise control needed for this type of game would be awkward playing in handheld mode, but that's simply not the case. After only 20 minutes it felt perfectly natural!

If you have recently played the game on PC or PS4 and have no need for portability then this is simply not for you. You're not going to be wow'd by graphical improvements.

But if you've never played the game (or haven't played in a while) buy this game! You won't be disappointed!

…

Probably the best version of the game out there.

Dark souls was designed to be a 30fps game. It is a very rare exception where a gameProbably the best version of the game out there.

Dark souls was designed to be a 30fps game. It is a very rare exception where a game feels better at 30. So with that being said. ( you can disagree if you want but before you do you should try playing the game at 30 and 60) I have played the moded original at 60 and it was like walking in soup. The Switch version feels much better.

The game is the original with better resolution and some small changes.
It runs very well and is a game that has aged well.

…

this is hands down one of my favorite games ever, and now i can play it on the go with better performance than the original! if your a souls

this is hands down one of my favorite games ever, and now i can play it on the go with better performance than the original! if your a souls fan and own an switch, this is a must have. this is one of those games that sucks you into its world and haunts you for days after playing. from the world building to the unforgiving but fair game play, Dark Souls is what gaming is all about.

…

I love play on Nintendo Switch in portable mode. And this game great work in this mode. Thank you Virtuos for this port!

This release seems to have more in common with the original release, rather than the current-gen remasters, and that's okay! Especially whilst

This release seems to have more in common with the original release, rather than the current-gen remasters, and that's okay! Especially whilst playing handheld, the game performs well and I found myself only becoming frustrated due to my own lack of patience. I never feel like I am battling poor controls, hitboxes, or poor game design. Easily a quality title for the Nintendo Switch.

…

I preordered this game and was incredibly excited to play it. It got delayed, but I was willing to wait to play it on switch. This is a

I preordered this game and was incredibly excited to play it. It got delayed, but I was willing to wait to play it on switch. This is a fantastic game but the Switch version has 2 small drawbacks:

1. The compressed audio in the first area (Undead asylum) is pretty bad. After this first area though it isn't a problem.

2. The 'A' and 'B' buttons are the other way round and cannot be changed in the control options. This is very confusing and after hours of game play it still feels uncomfortable as 'A' is universally select and 'B' is back.

Apart from these 2 small drawbacks on the Switch version you're in for one hell of a game. The world of Londor is mysterious and interconnecting like no other. Mechanically the game has age pretty well but still feels clunkier than Dark Souls 3. The lack of direction that game gives you is part of what makes exploring and discovering paths and secrets one of the most rewarding experiences an RPG can offer. Finally, this game is quite difficult and may turn away a few people, but as with all Dark Souls games (and trust me on this one) if you persist and get better section by section this game is going to be topping a few peoples lists.

So glad to finally experience this masterpiece and even more so to do it on a Nintendo console!

…

**** port with so many game breaking bugs... dumb B to confirm and A to cancel system... and so many other senseless stupidities